This may not be a serious issue to most people, but for self-proclaimed OCD people and even those who consider themselves 'Desktop Wallpaper Connoisseurs', this piece of news of totally getting rid of the "Activate Window" watermark for good is truly great news for them. Imagine opening your computer and desktop, and the first thing you can see is your beautiful wallpaper without any watermark suddenly popping in spoiling the wallpaper's aesthetic; what an incredible feeling of bliss and satisfaction! Also, all the restrictions brought about by that watermark shall be lifted such as personalizing your PC.
There will be no more eyesore watermark to ruin your day while enjoying your screen time. Unlike before, you spend almost all the time wondering why the watermark would always come back and persistently create annoyance to you while working or simply using your laptop or computer. This tiny issue of removing the "Activate Window" watermark makes a huge positive difference in your screen time experience.
Reasons Why This Watermark Comes to Your Computer
Now, before we proceed to the steps in completely wiping out the "Activate Window" watermark, let us first know the reasons why this watermark is so persistent and sticky on our screens. There are many reasons why this problem is happening. Below are some of the reasons:
Mistyped or wrong license key - Accidental mistake in inputting is frequently the reason for this watermark issue. A person may be in a rush and neglected to check if the encoded license key is correct or not. This usually happens due to honest and accidental mistakes, negligence, and inattention.
Sudden PC reboot - There are incidences from users that after they rebooted their computer or laptop, Windows 10 suddenly deactivated. The "Activate Window" watermark appeared and some control restrictions in the Windows 10 setting were experienced by some users. However, this can be easily troubleshooted by emailing first the Microsoft team and waiting for at least 24 hours for the Windows 10 to automatically activate itself.
Invalid license key - It is important to have a valid license key to fully experience and operate Windows 10. Your current license may already be expired or unmatched to the new version of your Window. Watermark appears to remind users to purchase a license key to enjoy all the benefits of using Windows 10, and it also gives us information that maybe we installed the counterfeit version of Windows 10 instead of the genuine one.
Easy Steps to Get Rid of Activate Windows 10 Watermark
To those having a nightmare because of this watermark issue, fear not, because free and useful solutions are available to bid good riddance forever to this problem. You may be overwhelmed by numerous information in google search but here are proven effective methods with its necessary steps that you may try to solve this watermark problem:
One method is the "Ease of Access" setting on your desktop. This method requires a little tweaking on your control panel to solve this watermark issue.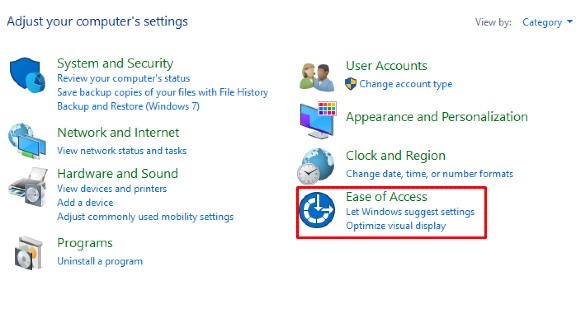 Step 1: Go to your control panel and open the "Ease of Access Center" setting
Step2: Click and select the "Make the computer easier to see" option
Step3: Choose the "Remove the Background Image" option
Follow the steps in order and after doing so, you will notice that the watermark is gone for good. However, your beloved background images and the wallpaper will also disappear. Nevertheless, with the watermark gone, the job is still well done.
The second method is to just click on the watermark or go again to your computer setting to remove it permanently. It was mentioned a while ago that watermark appears to remind users about the invalidity of their Windows 10. So, to quickly remove this simply follow the given instructions.
Step 1: Click CTRL-S or Control Setting
Step 2: Choose "Update & Security" option
Step3: Click "Activation Page"
Step4: Enter the license key to enable Windows 10 activation completely
After entering the valid license key, the watermark shall disappear instantly. Take note that this is only applicable to those with a license key and will not work for those without it.
For those who do not possess any valid license key, then the last two methods may work for you.
The third method is using a third-party tool to remove the watermark and even fully activate your Window 10 without purchasing a license key. Here are the easy steps to follow:
Download the new version of KMSAuto or Winaero. Now before proceeding to download these .exe files, first turn off or deactivate your Windows threat detector or antivirus. Most of the time, these files are considered malware by your laptop or computer but rest assured that these are only risk tools. You may only use them by deactivating first your window protection wall or antivirus or else, it will not work at all.
After downloading, click on it to run and install it on your laptop or computer.
Click the activation option after installing KMSAuto and it will automatically do its thing in activating your window. After it is done, reboot your computer and you will have an activated windows 10 and no watermark.
For Winaero, after installing, it will log you out of your computer or laptop. Relog to your laptop or computer after restarting it to erase any sign of watermark.

No More "Activate Windows" Watermark

Aside from the methods and steps listed above, there are many ways to take care of this watermark problem. You may simply opt to buy a license key to solve this problem immediately, but if you cannot afford the price of a license key from Microsoft then using these effective and free alternative options is truly a risk worth trying. Getting an activated Windows 10 and getting goodbye forever to the annoying "Activate Window" watermark on your screen for free is truly a joyful thing to every user.